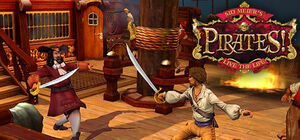 Sid Meier's Pirates! is a 2004 strategy/action/adventure computer game developed by Firaxis Games and published by Atari. The game is a remake of Sid Meier's earlier 1987 game, also named Sid Meier's Pirates!. Overall, the gameplay remains similar to the original game, though it features a 3D game engine (NDL's Gamebryo). Some elements such as sun sighting have been removed, but other features have been added, such as a ballroom dancing mini-game and an improved turn-based land combat system.
External links
Edit
Ad blocker interference detected!
Wikia is a free-to-use site that makes money from advertising. We have a modified experience for viewers using ad blockers

Wikia is not accessible if you've made further modifications. Remove the custom ad blocker rule(s) and the page will load as expected.